Boulder Marital Agreements Attorney
Financial disagreements are a common cause of separation and divorce. With the assistance of a family attorney, you can enter into a marital agreement with your spouse or fiancé to possibly avoid conflict and costly litigation in the future.
A Boulder marital agreements lawyer at Dolan + Zimmerman LLP can assess your situation and help draft a contract that protects you and your assets. Call or message us online for a free consultation today.
Why Choose Our Boulder Marital Agreements Lawyer?
In order to provide our clients with the best and most effective service, we adopt a team approach.
You will have access to and will work directly with your Boulder family law attorney.
Each case is important to us, so we handle them with an individualized approach to achieve an outcome that fits your needs.
Types Of Premarital Agreements In Boulder
Prenuptial Agreements
A premarital agreement, as it is known in Colorado, also called a prenuptial agreement, is a contract between two people made in contemplation of marriage. This contract is drafted and signed before the wedding and becomes enforceable once the couple is legally married. The agreement will usually include provisions for the division and distribution of property, characterization of property, and spousal support upon divorce.
Postnuptial Agreements
A postnuptial agreement also called a marital agreement in Colorado, is identical to a prenuptial agreement in terms of the provisions it may address. However, the couple is already married when they sign a postnuptial agreement.
What a Premarital agreement or Marital agreement CANNOT Include in Colorado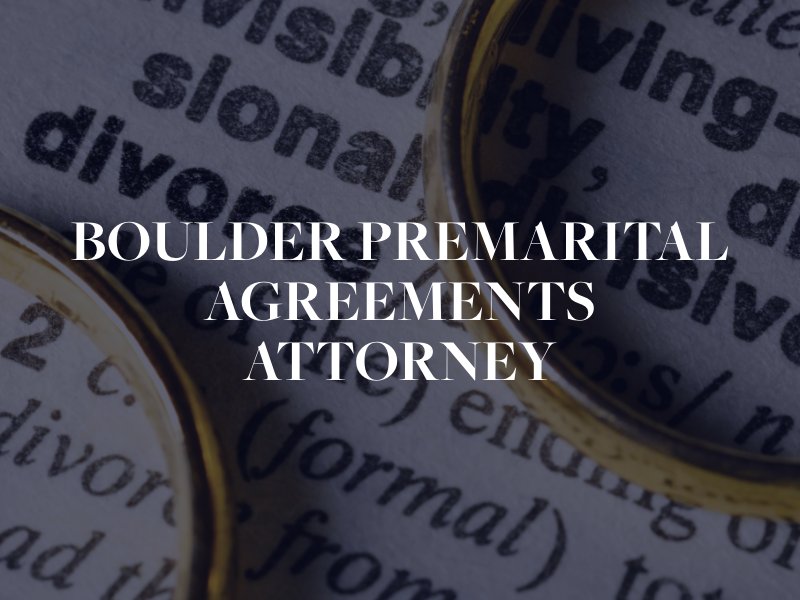 A premarital agreement can provide couples with the clarity and peace of mind that comes from having a plan for their future. But it's important to understand what premarital and marital agreements cannot include in the state of Colorado. Knowing your limitations is key to setting realistic expectations and drafting an agreement that will actually be enforceable. 
A term included in a premarital or marital agreement is unenforceable to the extent that it:
 Adversely affects a child's right to support;

 Limits or restricts a remedy available to a victim of domestic violence under Colorado law;

Purports to modify the grounds for a court-decreed legal separation or marital dissolution available under Colorado's laws;

Penalizes a party for initiating a legal proceeding leading to a court-decreed legal separation or marital dissolution; or

Violates public policy.
Alimony can be addressed in a premarital agreement; however, if at the time of divorce either party believes that the alimony provision is inequitable and unconscionable, they can challenge its enforceability in court. 
If found unconscionable, the alimony provision will not be enforced but will instead be decided by the court as a matter of law.  
Additionally, alimony must be based on statutory factors and cannot alter the grounds for divorce. This means alimony determinations cannot be based on infidelity by either spouse.
Prenups and Postnups Can Be Modified in Colorado
Once a prenup or postnup has been signed, it can be modified by the agreement of the parties. Both parties must agree to the changes, and it must be signed.
Additionally, a premarital agreement can be revoked by both parties mutually agreeing to do so and signing a revocation agreement. 
Alternatively, in the case of divorce, one spouse may try to persuade the judge that the agreement is unenforceable. However, this may prove difficult as the court must consider several factors such as if there was full disclosure regarding assets and if the terms are fair and equitable for both parties before ruling on its validity.
The Benefits of a Marital Agreement
Marital agreements may not seem romantic, but if you decide to separate from or divorce your spouse, a prenuptial or post-nuptial agreement can simplify the process. A few of the reasons why couples consider a marital agreement are:
One spouse is wealthier than the other.
One spouse has more debt.
Children are involved.
One spouse is a business owner.
To keep sensitive information confidential, such as finances and details about the marriage.
Either spouse was previously married.
Colorado courts prefer and tend to hold up marital agreements entered into before marriage (prenuptial) rather than after.
If children are children involved, please contact our Boulder child custody and child support lawyers today.
Are Marital Agreements Enforceable?
Whether a marital agreement is enforceable in Colorado or not is decided by the court on a case-by-case basis. However, the agreement must be in writing and signed by both parties. The parties must have entered into the agreement voluntarily, have had time to discuss it with a lawyer, and exchanged full financial disclosures regarding assets and debts.
If there is proof that one party was forced or felt coerced into signing the agreement or was kept from seeking independent legal advice, Colorado will not enforce the agreement. It will be considered "unconscionable." The validity of a marital agreement heavily relies on clarity, transparency, and fairness.
Getting Help From a Boulder Marital Agreements Lawyer
Discuss your circumstances with a highly experienced Boulder divorce lawyer. We will advise you on how to go about protecting your assets and any potential legal implications. Contact us today to schedule a free consultation.